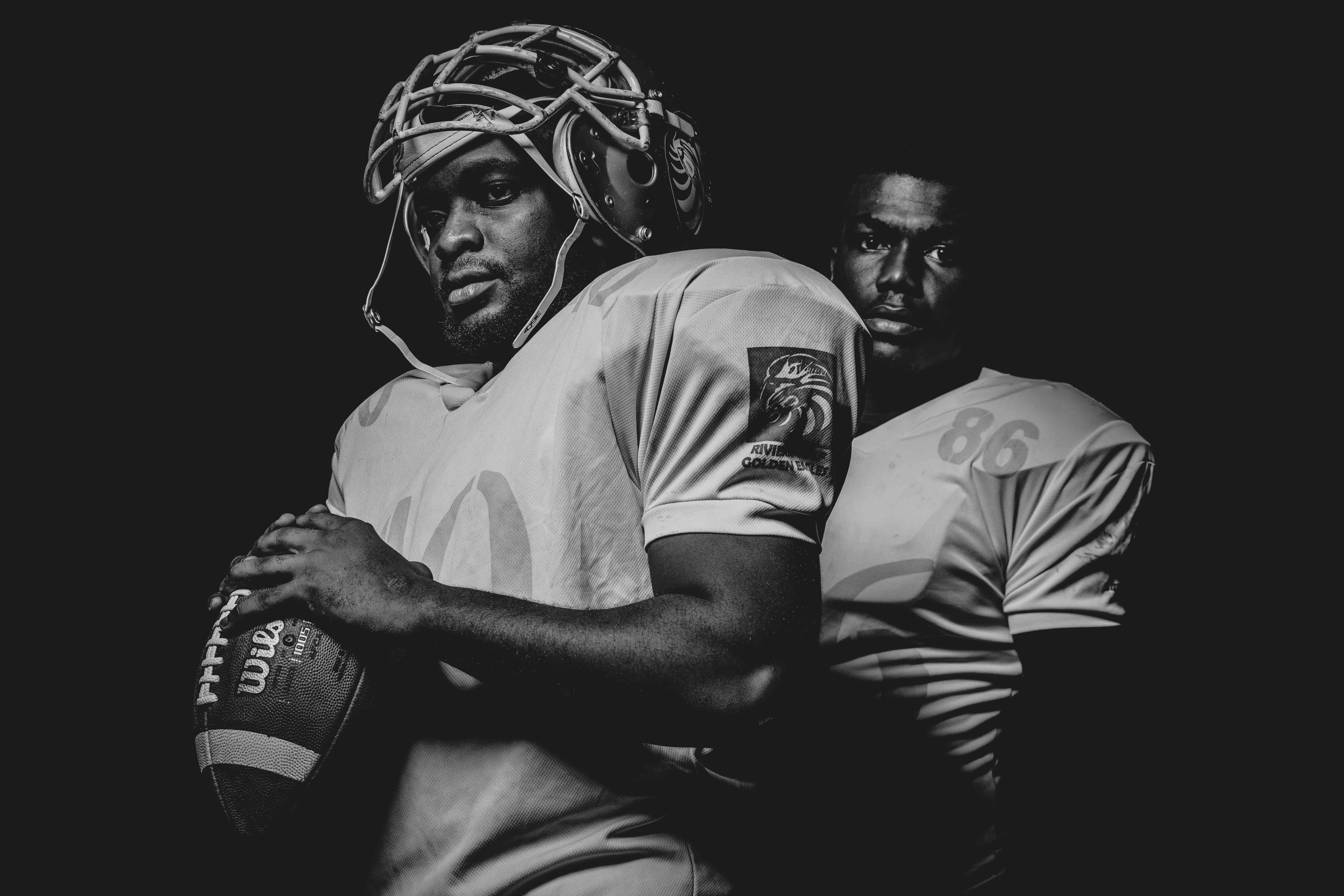 NOTRE HISTOIRE
Les Golden Eagles sont une initiative de Mr M'Boua Stéphane, qui après plusieurs années en occident, décide en 1995 une fois rentré en Côte d'Ivoire de créer une équipe de football américain dans son quartier de la Riviera Golf. Néanmoins, ce ne sera que 20 ans plus tard qu'avec l'aide de Mr Freddy Yovo, Mr Tiéba Traoré et Mr Ibrahim Diop que le projet prendra véritablement forme avec les Riviera Golf Golden Eagles. Ces 4 membres fondateurs du club sont tous des anciens joueurs, ayant pratiqués ce sport en France, au Canada et aux Etats unis et qui ont décidé de mettre leur expérience et énergie ensemble pour aider la jeunesse par ce projet.
Les Riviera Golf Golden Eagles voient le jour au début de l'année 2015 à Abidjan dans le quartier de la Riviera Golf.
Depuis lors, de nombreux entraînements et matchs se sont déroulés au niveau national et International ; Notamment le fameux  Sankofa Bowl, opposant le Nigéria (représenté par les Lagos Marines) à la Côte d'Ivoire (représenté par les Golden Eagles de la Riviera Golf) et les matches nationaux, les Impact Bowl, la première confrontation de l'histoire entre deux clubs ivoiriens ( les Golden Eagles contre les black Scorpions) et nos matches internes, les Golden Eagles Bowl. Notre association sportive, les Golden Eagles,  continue de s'entraîner sans relâche tous les mercredis, samedis et dimanches à la Riviera Golf, Cocody à Abidjan. Toujours déterminés à devenir le club de football américain ivoirien de référence en Afrique et un jour à l'international, Nous sommes toujours prêts à relever de nouveaux challenges.
OUR STORY
The Riviera Golf Golden Eagles are an initiative of Mr Stéphane M'Boua who when he came back to Ivory Coast in 1995 after several years in the western world decided to create a Football team in Riviera Golf, his neighborhood. It was only 20 years later that the project really came to life with the help of Mr Freddy Yovo, Mr Tieba Traoré and Mr Ibrahim Diop who are all Former Football Players and who just like Mr M'Boua played the sport in different places like France, Canada and the United States. They decided to put their experiences and energy together and in the Beginning of 1995, The Riviera Golf Golden Eagles were born. The team is located in the neighborhood of Riviera Golf , North side of Abidjan, in Ivory Coast. Since then, Many training sessions and games have been held at national or regional level; Such as the Famous SANKOFA BOWLS, the first international American Football games in Subsaharan Africa opposing Nigeria (represented by the Lagos Marines) to Ivory Coast (Represented by the Riviera Golf Golden Eagles) or the IMPACT BOWLS, the first  national football games played by two teams from Ivory coast ( The Golden Eagles vs the Black scorpions) and our intra games, The Golden Eagles Bowls. The Golden Eagles practise all year long three times a week (every wednesday, saturday and Sunday) in Riviera Golf  & Cocody ( Northside of Abidjan). Always determined to be the benchmark of American Football in Ivory Coast (Côte d'Ivoire) and in Africa, The Golden Eagles are always ready for new challenges .

L'ENCADREMENT
Les entraînements et l'accompagnement des jeunes au quotidien sont assurés par :
Mr Stéphane M'boua "Coach Stéphane" président du club et entraineur en chef, est ancien joueur ayant pratiqué le football américain en France dans les années 90 lorsqu'il y faisait des etudes de Droit  à l'université de Paris 8 .
Mr Eric M'boua vice président du club, Ancien joueur des Ours de Toulouse (en France)  a effectué ses études universitaires à Toulouse et au Canada.
Les autres membres du coaching staff que sont Tieba Traoré et Ibrahim Diop, spécialistes de la défense, sont eux aussi d'anciens joueurs ; Mr Tieba ayant joué plusieurs saisons au Canada (notamment aux Bulldogs des Deux Montagnes et Cerberes de Montréal Est) et Mr Diop étant un ancien Joueur des White Sharks de Nanterre et des Météores en France.
Ces membres des Golden Eagles, veillent à l'encadrement sportif et social, il s'assurent également du respect des règles de sécurité sur le terrain.
L'apprentissage du football américain est un parcours long  qui demande beaucoup d'écoute dans le respect des règles, et des assignations. Nos joueurs doivent tous disposés d'un certificat médical et souscrire également à une assurance avant d'être autorisé à pratiquer ce sport. Le staff encadrant est donc présent afin que tous ces éléments soient respectés.
THE (COACHING) STAFF
Training and support of our young athletes and people on a daily basis are provided by :
Mr Stéphane M'Boua , President of the association and Head Coach of the Golden Eagles is a former Football Player who played in France during the 1990's when he was a Law College student at Paris 8 University .
Mr Eric M'Boua , Vice President is also a former Football Player who played for the Toulouse Bears (Les Ours de Toulouse) where he went to college before moving to Canada.
The other members involved in the coaching staff on the defensive side of the ball, are Mr Tieba Traoré and Mr Ibrahim Diop. They too, are former football players : Mr Traoré played several years in Canada ( Deux Montagnes Bulldogs & East Montreal Cerberes) and Mr Diop is a former Defensive end who played in France (Nanterres White Sharks &  Fontenay sous Bois Meteores). The coaching staff make sure safety comes first and that the players learn the rules and the game the right way ; Social concern and involment are also part of the development of the players and members attitude and values on and off the field. Learning and Mastering the Game of (American) Football is a long journey that requires the players full attention, and lot listening and discipline in respect of the rules and assignements. Our players must go by certain rules ( insurance, medical certificate, Parental consent for minors , etc) in order to be part of the team and before being allowed to play the game. The staff makes sure these elements are taking care of and well respected.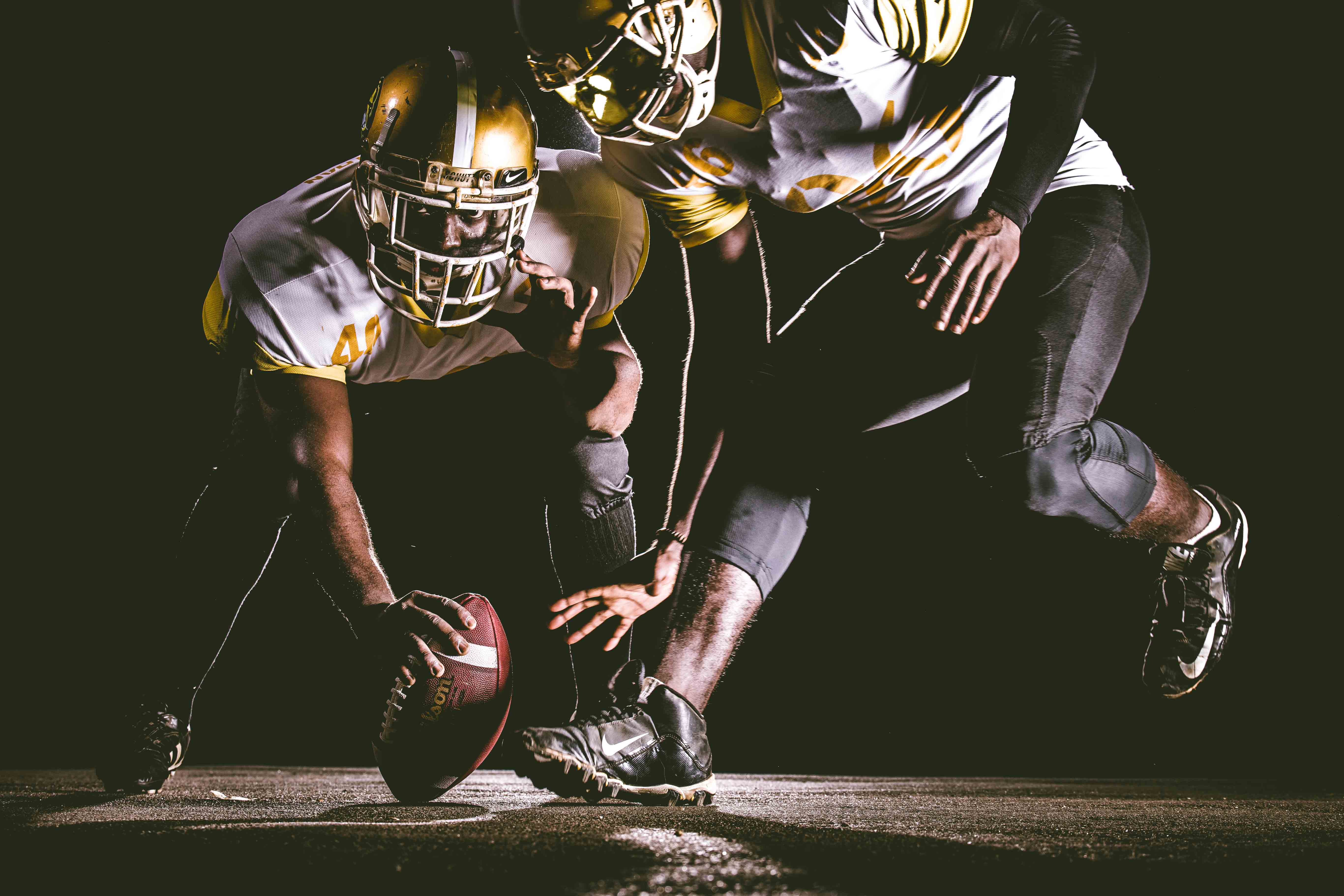 NOS VALEURS
La devise de la côte d'Ivoire est Union, Discipline, Travail.
Cette devise correspond exactement aux valeurs des Golden Eagles. A travers l'exigence demandée aux entrainements et surtout pendant les matchs.
Respecter son club, son adversaire et toutes personnes intervenants de l'intérieur  comme de l'extérieur du club, doit être une seconde nature pour tous membres de cette équipe.
Le sens de l'abnégation et du sacrifice sont indispensables dans l'effort, et surtout pendant les moments difficiles, relever la tête et continuer malgré la fatigue sont des leçons que les joueurs apprenenent et qui doit pouvoir leur servir aussi en dehors des terrains.
Les Golden Eagles accueillent toutes les catégories sociales au sein du club et c'est justement cela qui fait la force de notre association. Malgré les  moyens modérés nous essayons d'aider aussi la communauté par la mise en place d'actions à caractère sociale .
OUR FUNDAMENTAL VALUES
Ivory coast's motto is Unity, Discipline, Labour. This motto exactly describes the Golden Eagles core Values. it's clearly in display when you watch the Golden Eagles practise or play a regular game.
Respect for the Club, Respect for our opponents, Respect for anyone whithin the organization or outside of the organization must be a second nature for all members of the club.
Unselfishness, sacrifice, self denial are important keys in any accomplishment and especially during tough times; Keeping your head up, and keep on pushing and going forward even when there is Fatigue and hard situations are lessons players and members of the association learn from the game. The lessons must be usefull on and off the field .
Members of The Golden Eagles come from various social background and those differences are exactly what makes the association stronger. Despite not having huge financial ressources, the association is socially involved in the community.

LES OBJECTIFS
Communiquer sur nos valeurs sportives et sociales.
Apprendre le football américain aux jeunes ivoiriens.
Mettre en place une organisation et des structures sportives.
Participer à des matchs régionaux et internationaux.
Accompagner nos jeunes dans leur parcours académique.
Developper un championnat en Côte d'Ivoire et International en Afrique
Contribuer avec l'Aide de la FIFAM (Fédération Ivoirienne de Football Américain) au développement et à la promotion du Foot Us sur tout le territoire national, également à l'expansion internationale de notre sport et favoriser la création d'une équipe nationale
GOALS
Passing on our fudamental values through sports to the youth and getting them socially involved
Teaching American Football to the young men and women in Ivory Coast
Set up an organization and sports structures to promote american football in order to make the sport grow in Ivory Coast
Participate in local, regional and international games
Help and assist our young people through their academic career.
Helping the FIFAM (Ivorian Federation of American Football) developing a National Championship,& an African championship, Spreading American Football in Ivory Coast and also creating a National team .